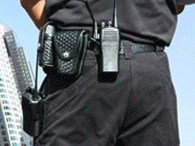 In an insecure place like Delhi, if you are frightened up (24/7) and have fear of any ascertain happening due to an esteemed position, then it is necessary that are protected with private armed security. At Secura Security, you can get the expected and deserved security service for banks, shopping malls, jeweler's shops, schools, commercial establishments etc.
Have a Glance at Specialization in our Security Services
Our private armed security officers are well trained and carry licensed arms for protection of workplaces and organizations. We assure that the protective shield that we provide on you is unbreakable in any situation so that you can fearlessly assign your private formations under steadfast security services. Our armed security guards are selected on the basis of their experience and ability to handle every kind of misadventure that could take place and harm your property.
Our security services are known for being unfailing and affordable. We offer protection via bouncers, personal security officers, corporate security officers and many more with security as per your demand/ comfort level. Both male and female security guards are provided who are well trained and unformed and offer safety in the Delhi and NCR regions. So, for hard and fast security services, call us now.